LAGQ - Los Angeles Guitar Quartet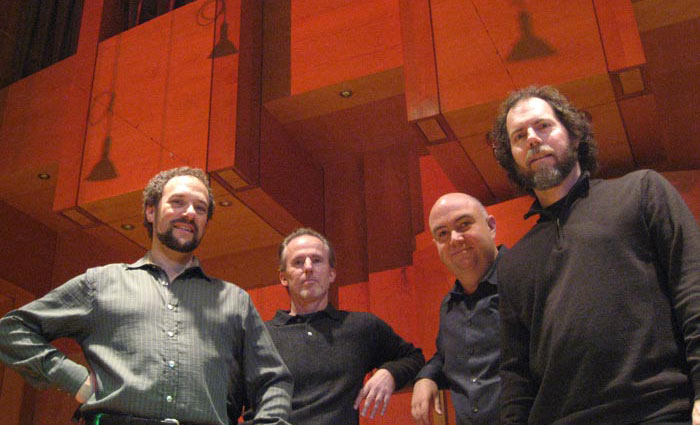 This page is about my twenty years with the LAGQ, or the Los Angeles Guitar Quartet. During my tenure with the group we won a GRAMMY and were twice nominated, we garnered recording contracts with major record labels Sony and Telarc, and we toured together five months of the year. (More touring was certainly possible, but we each had our solo and personal projects going as well). Since my departure in 2006 there is a lack of information about the actual history of the group, so I am including a few of my photos and recollections of my time as a member of the LAGQ.
The group was started at the University of Southern California in 1980. The original members were Anisa Angarola, John Dearman, Bill Kanengiser, and Scott Tennant. All were students of USC at the time. The first recording made by the group was a vinyl LP of very limited distribution. Here it is, showing the members from the early 1980's.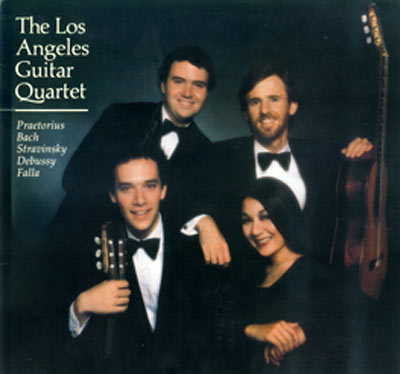 I came to Los Angeles in 1983 to get my masters degree from USC, and became friends with John, Scott and Bill. Scott and I played lute together in the early music ensemble at USC, and John and I hung out together quite a bit, talking about music.
In 1986 I left Los Angeles to go to Europe for three months. There, in Cordoba, I met John Williams, and through this meeting he ended up recording and touring my compositions "Sunburst" and "Lullaby". But that is another story. After Europe, I had no real intention of returning to Los Angeles, but I got a phone call from Bill. The group had received a contract to do dozens of school concerts in and around Los Angeles, mainly for elementary school children. Anisa Angarola, the original member, was not going to do them, Bill told me. Would I like to do all these shows with the group? I thought, "Why not?" I knew and liked the guys and respected their abilities very much, so I returned to L.A. and we began rehearsing a show for school children.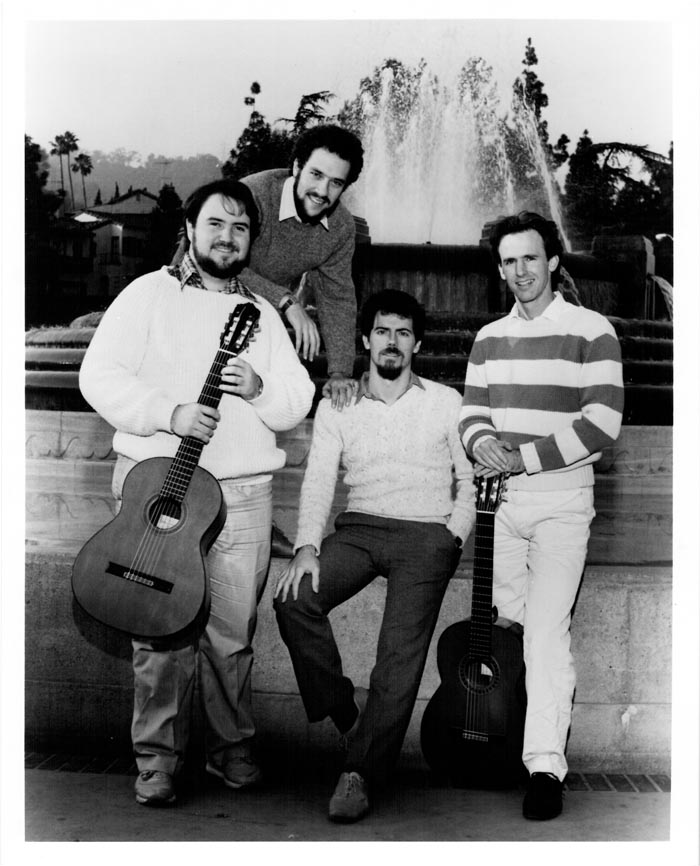 We needed a photo, so here we are in 1986, standing by the fountain at the corner of Los Feliz Blvd. and Riverside Drive, near the entrance to Griffith Park in Los Angeles.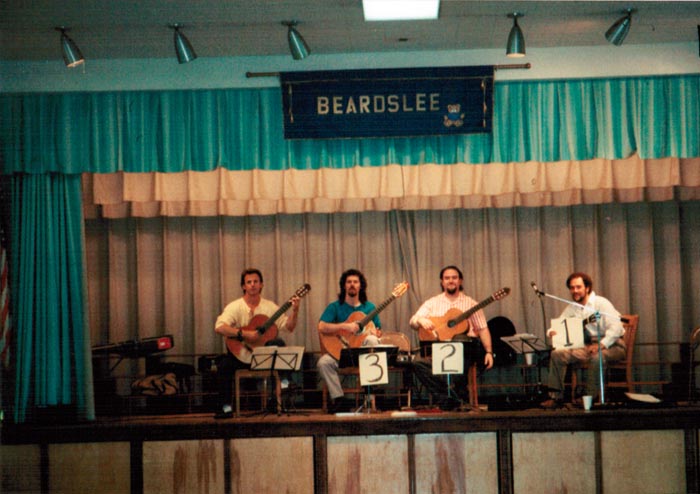 We put together many descriptive techniques to teach the children something about music. I remember we built a musical taco out of the different parts of La Bamba (I'm not kidding) and played Telemann while raising and lowering our heads with the entrance of each of our lines. Notice the number placards on the music stands, which we used in pieces for educational musical shtick.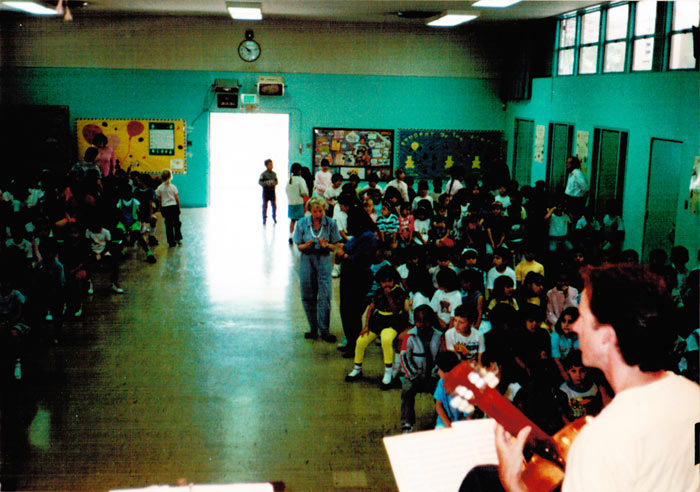 A stage eye view of our early concerts for the munchkin set. We did more of these concerts than I can count between 1986 and 1989. A hundred? I don't know. All I know is we all got really tired of building that taco. But playing for children in that age group is a magical experience. They are open to everything and still un-selfconscious enough to genuinely respond to the music, and absorb it.
Anisa Angarola continued to be the official LAGQ member, and to play the concert tours. But by 1989, it was clear that personal and professional differences were driving Anisa and the other members in different directions. In 1989 I was asked to if I would learn all the music for a tour of Europe, because Anisa was having a hand problem of some sort. But if she got better, I wouldn't do the tour. I said no to this; I wasn't going to do so much rehearsing unless I was going to really do the tour. So they asked Mike McCormick, a fine player and friend of the group, to take on the task. He was willing, and as things turned out, he ended up doing the tour as a sub for Anisa.
Cut forward one year later - it's 1990 and I am asked the same question again, but this time I will do the tour for sure. I agree to do it, we rehearse like crazy, and we do a winter tour together at the end of 1990. I remember we played El Amor Brujo by Manuel de Falla, and a piece written for LAGQ by Carlo Domeniconi, based on Turkish themes. By the end of the tour, the musical chemistry between us was undeniable, and the guys asked me to join the group. This was a momentous decision for them, and for me, to make.
Now, I was flattered to be asked but unsure about joining, for two reasons. First, my wife and I had decided to move to London, and we already had a flat there. This, obviously, would complicate things immensely being thousands of miles away. Second, my musical background was very eclectic. Though I had studied classical guitar since I was eight years old, and was comfortable with this medium, I was also a very immersed into jazz. In fact, at USC I had studied with Joe Diorio and Lenny Breau, and was still very influenced by my jazz studies. Also, I was deeply into improvisation and composition, and while my compositions would ultimately play a signature role with the group, improvisation could not be a functional part of this ensemble. Playing with LAGQ, though very challenging, seemed like it would not employ large areas of my musical abilities. But for now, I thought about it, conferred with my wife, and decided to join. Then we moved to London.
---
Brussels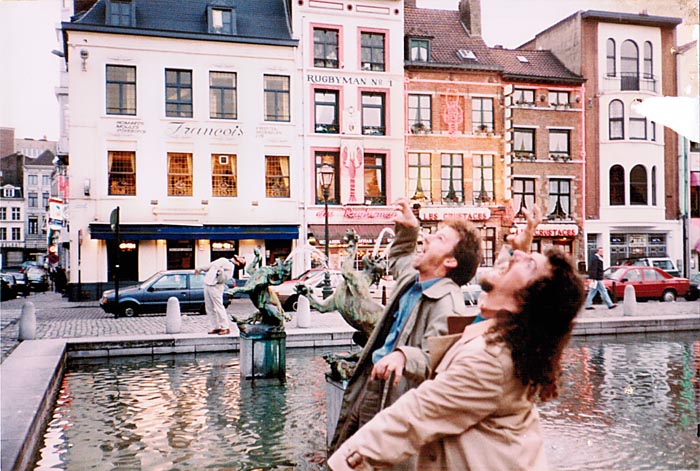 Now that I was living in London, the boys would fax music to me to learn, and then we would meet a couple of days early to rehearse at the start of a tour. In 1991, we had our first tour together in Europe. The boys flew from L.A., and I flew from London, and we met up in Brussels, where this photo was taken.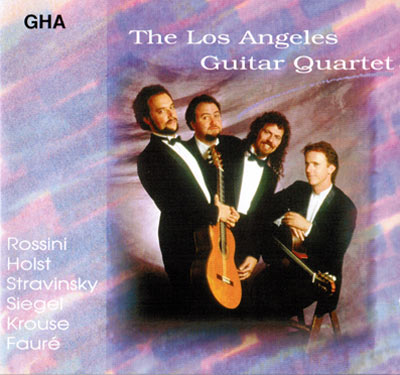 During one of our 1991 tours, we recorded our first CD together for GHA, a small guitar label based in Brussels. It shows the fairly conservative mien of the group at that time - we are all wearing tuxedos. Our aesthetic then was less eclectic than the musical freedom we came to represent later.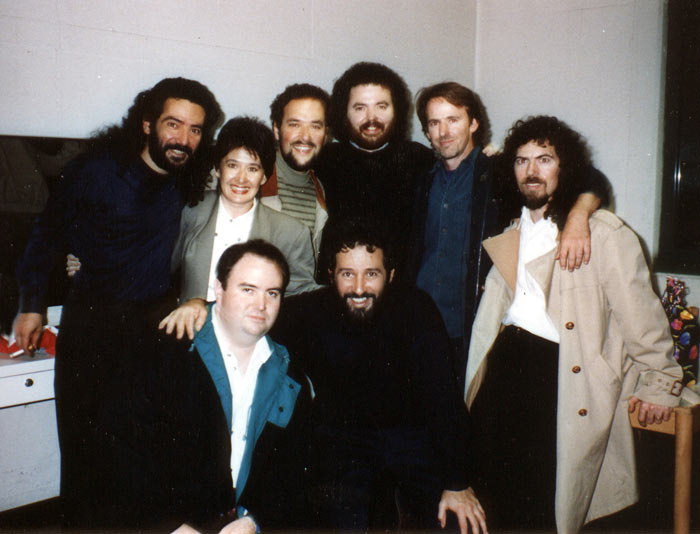 Mettmann Germany, shown here are Sergio and Odair Assad, Fa Deni-Assad, Odair's wife and the owner of GHA records, and Manuel Barrueco.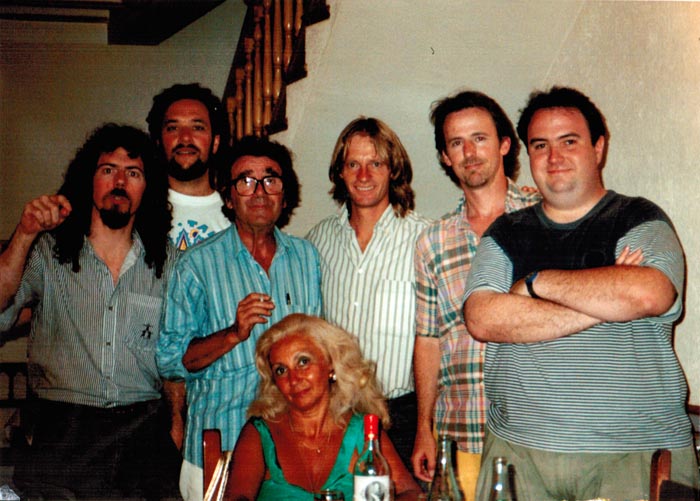 I'm not sure where this photo was taken. I think maybe Spain, Scott guesses Germany. But that is David Russell with us.
---
Istanbul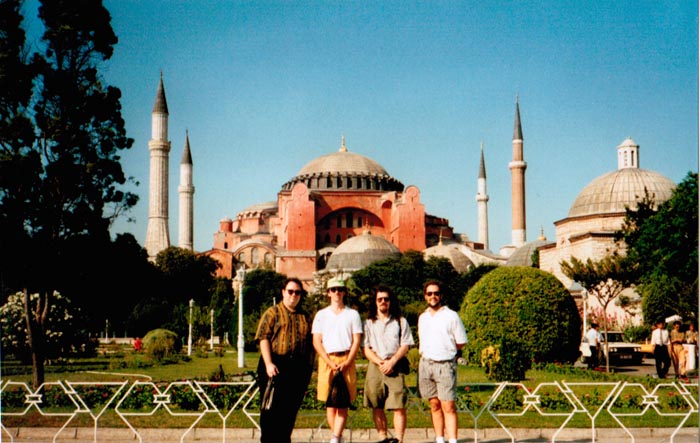 In 1991 we went to Istanbul for the first time. A nice tourist shot here. Love the shorts.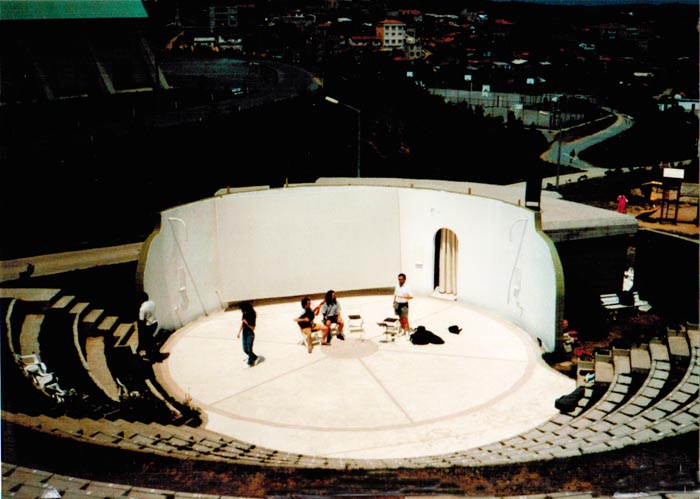 In Istanbul we played at an outdoor venue. The history in this part of the world is overwhelming. After Rome fell and the Roman Empire collaped, Istanbul (then Constantinople) was the center for the Eastern Roman Empire for another thousand years until its fall in 1453.


Cannes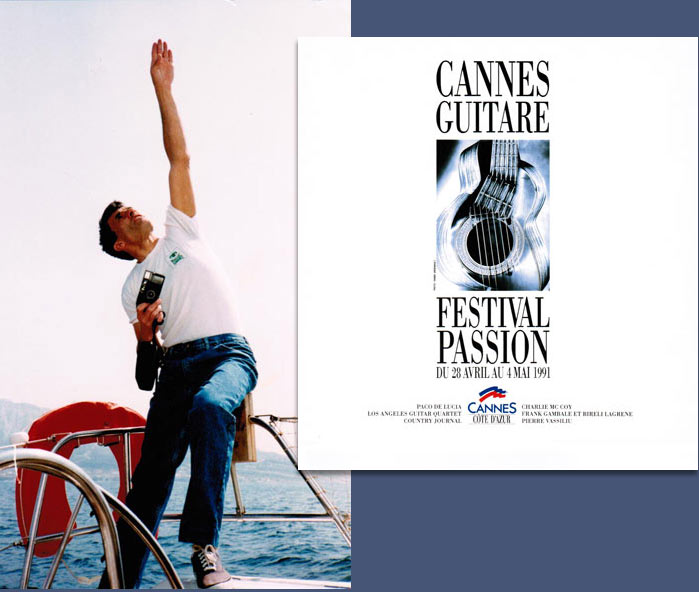 This is Bernard Maillot, president of Savarez Strings and a good friend to all of us. He took us out on his boat in the Mediterranean off the south coast of France, when we played at the Cannes festival in 1991.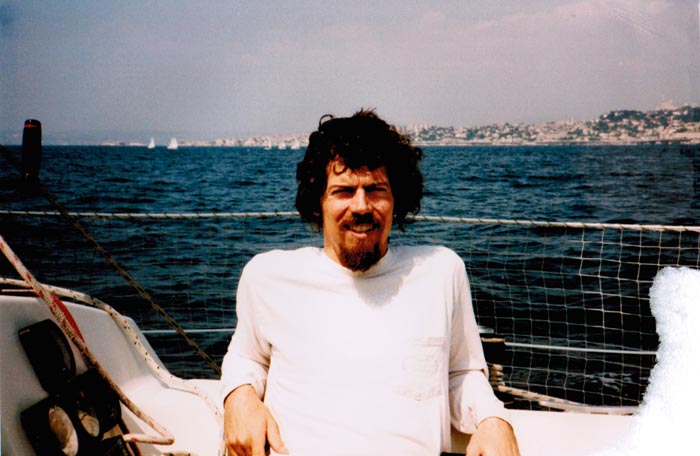 Enjoying the ride in Bernard's boat.
---
Munich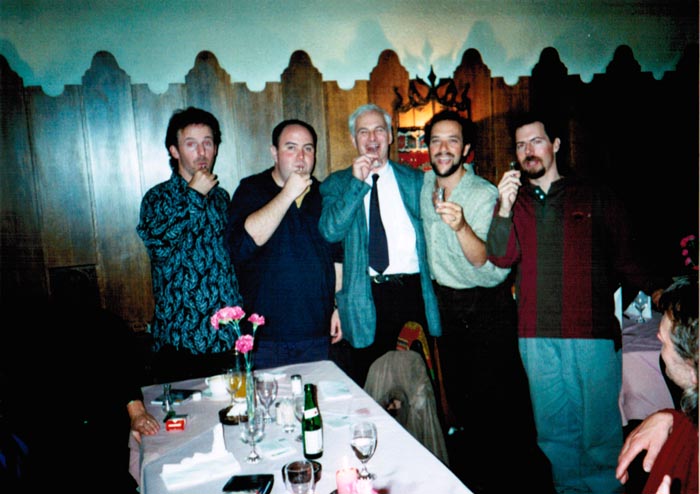 In 1992 we began a relationship with Wolf Siegel in Munich. He brought the group many times to Munich where we played in the Hochschule. It is a beautiful hall, and I have many good memories of playing there. Our relationship with Wolf continued for more than a decade, and one of our last concerts together was there in 2006. Here we are in Opatija, a Greek restaurant Wolf always took us to after our concert.


Berlin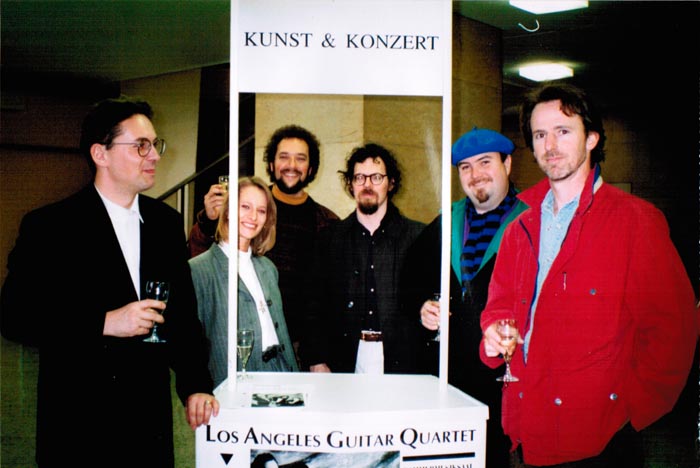 Early in the 90's we were presented in Berlin by Wolfram Shulze (later he changed his name to Wolfram Arton). Over the years we did a number of concerts in Berlin at the Philharmonie, a concert hall with seats stretching all the way around a center stage. Wolfram would meet us at the airport with champagne (or maybe it was sekt) to welcome us to Berlin.
We were in Berlin the first time just after the Berlin wall had come down. There were still huge tracts of it standing just off the roadsides. I remember walking to the wall and trying to chip off a bit for a souvenir. It wasn't easy; I ended up swinging huge chunks of concrete against it to try and strike off a small piece. That was one tough wall.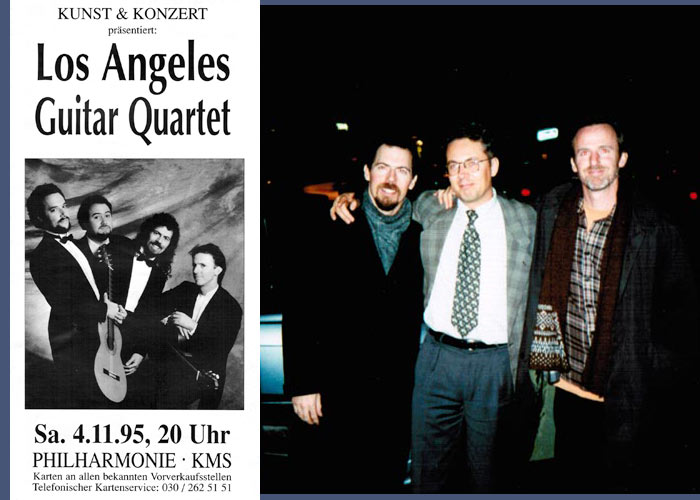 John and I with Wolfram.
---