Japan 2011


One month after the tsunami and nuclear disaster in Japan, I went there for a two week tour. It was a profound time, and people were very grateful to have music. More than half of all artists cancelled their tours during this time because of radiation fears. Here is the flyer for my concert at Philia Hall in Yokohama. I played on the same series as Yamashita and Göran Söllscher.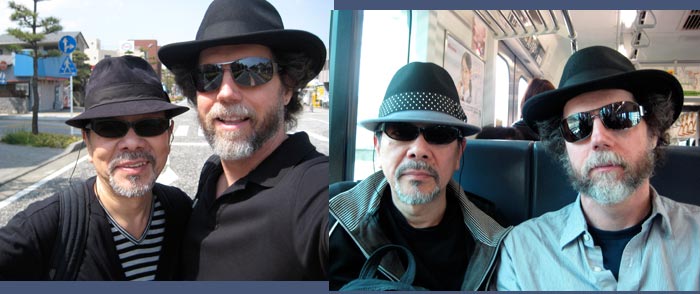 My manager in Japan and longtime friend, Takao Kasahara, brought me over for the tour. Here we are doing our Blues Brothers impersonations, sort of.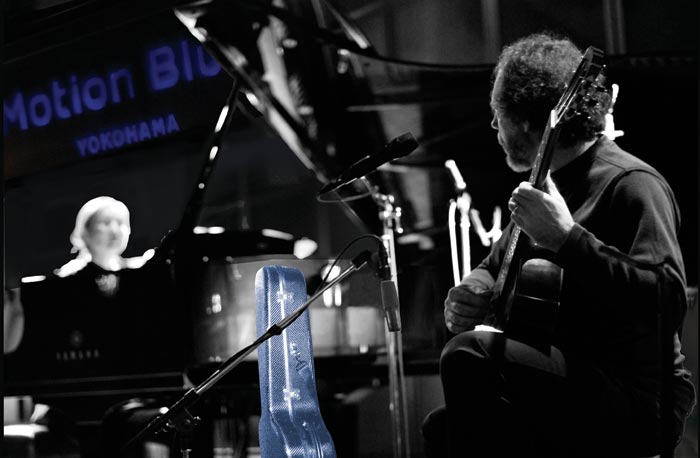 Besides concert halls (Japan has hands-down the best concert halls in the world, acoustically), I also played in a Blue Note club in Yokohama called "Motion Blue." I shared the evening with the beautiful and exquisitely talented Japanese pianist Mitsuko Kado. I have worked with her many times, and she also played with me on my latest CD, Centerpeace. In Motion Blue we played solo sets, and several pieces together.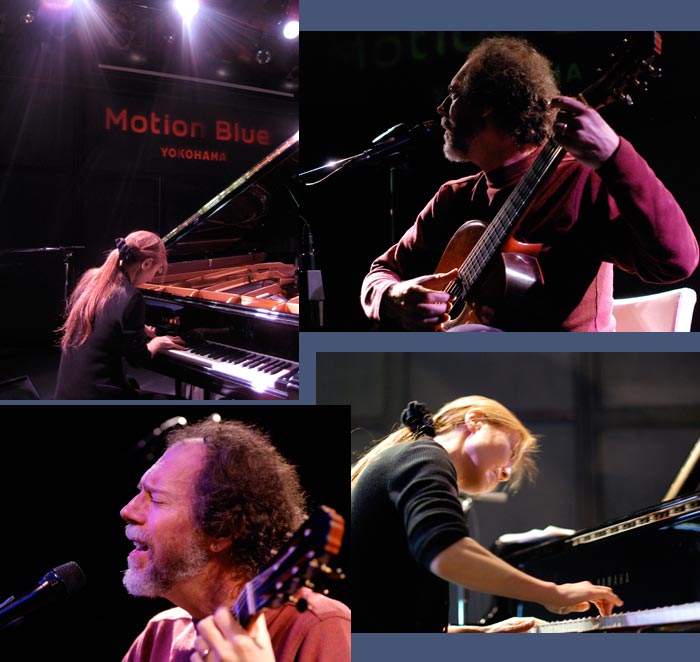 Mitsuko is such a pleasure to play with. Here we are preparing for the shows. During the second set, a 6.0 aftershock hit out to sea, shaking the club while we were playing. We just smiled at each other and kept on rockin'.



Me, Takao and Mitsuko hanging out in Tokyo before my concert in Hakuju hall. These photos were taken by Takao's assistant Kunihiko Ohsono. Kuni was a great help to me in taking photos and videos of the shows.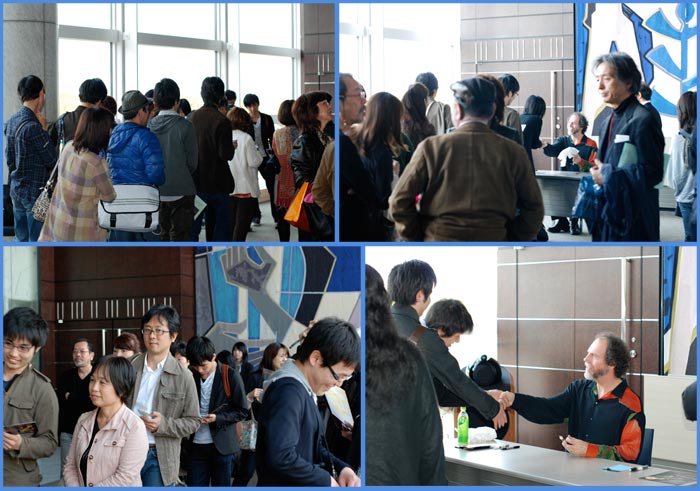 Signing CDs, sheet music, posters and placards after the concert.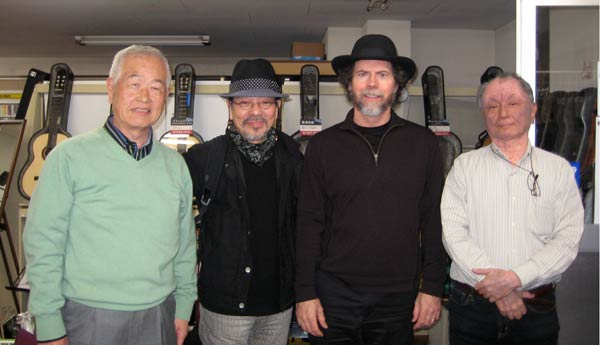 As always, a visit to my friends at Gendai Guitar in Tokyo. They publish many of my pieces through their publishing company, and they have also brought me over for concerts in the past. On the left is Ryoji Sekizuka, and on the right the magazine editor Seiichi Nakazato.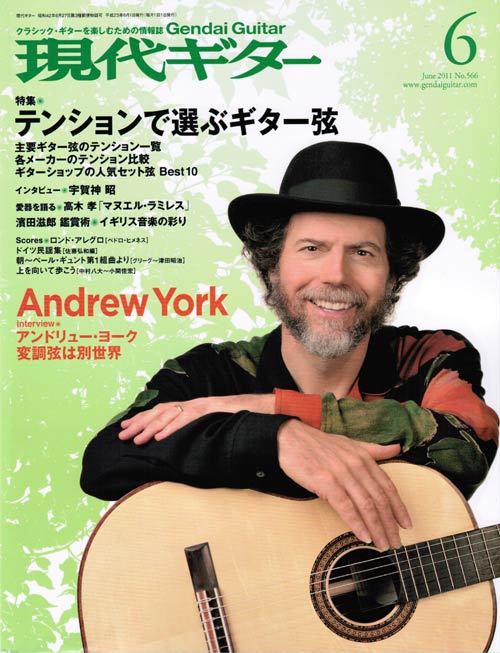 Gendai interviewed me for a cover story in their monthly magazine, which is the biggest classical guitar magazine in the world.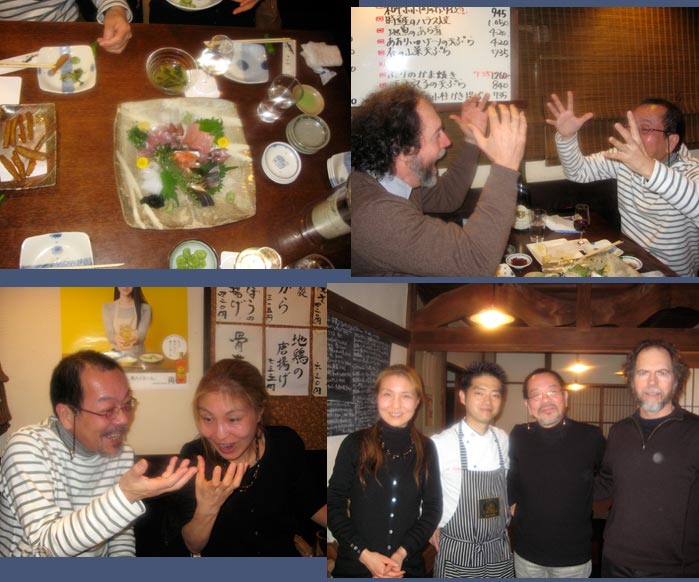 And afterward, living slow life and eating slow food at unbelievably special artisan restaurants is a big part of a tour in Japan with Takao and Mitsuko. With lots of incredibly fresh seafood and good wine, we get boisterous. On the bottom right is the chef of a superb restaurant who worked and studied in Sardegna, and cooks Italian/Japanese combinations that are works of art.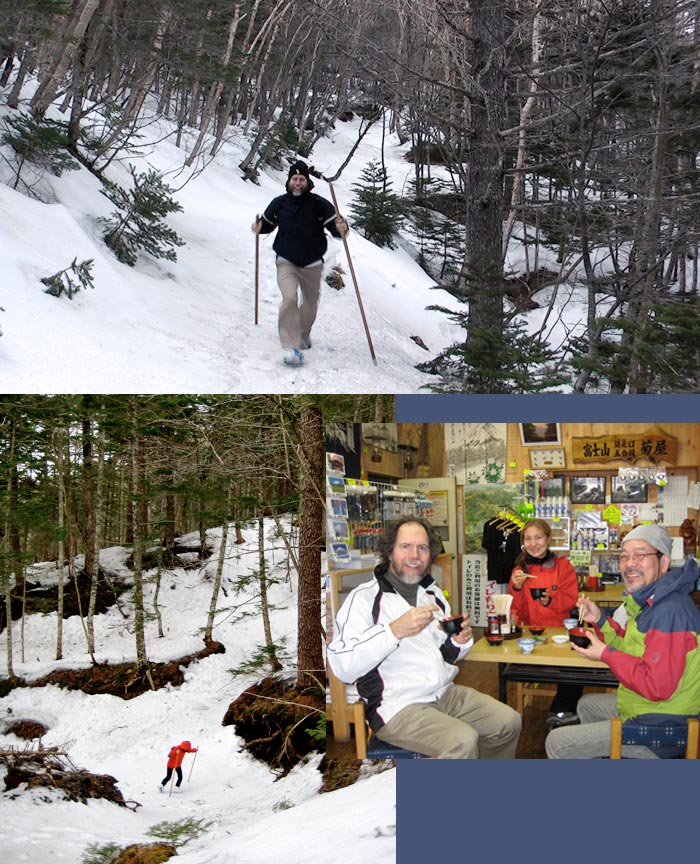 On my last day we went up Mount Fuji, on the first day of the year the road is open to the first station. We started at one mile elevation and hiked through snow that was sometimes knee deep, with high winds blasting the mountainside. After returning to the little cabin/store on Fujiyama that was our departure point, we warmed ourselves with tea and miso soup.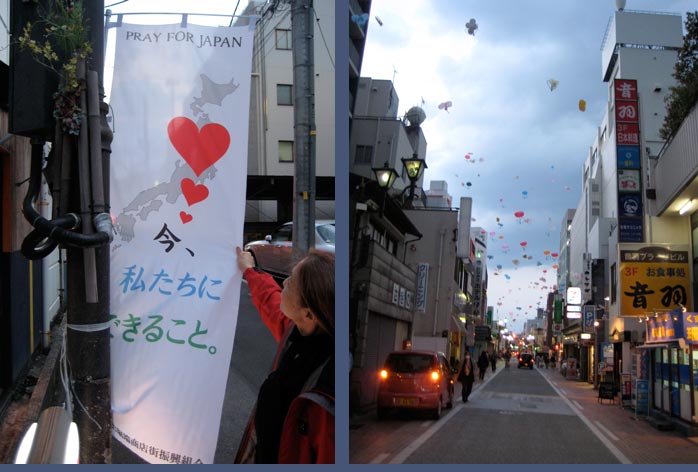 Odawara City had banners and balloons to remind everyone of the danger and suffering that was happening up north, from the tsunami aftermath and the radiation leaks.


Getting a little silly here, during our dinner excesses. On the left, we walked Yokohama harbor and watched a television commercial being filmed with this pretty model.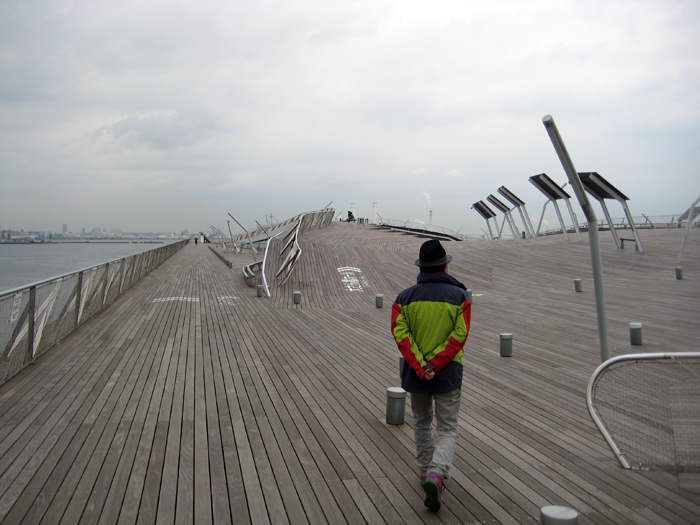 Yokohama pier is an artistic construction with complex lines.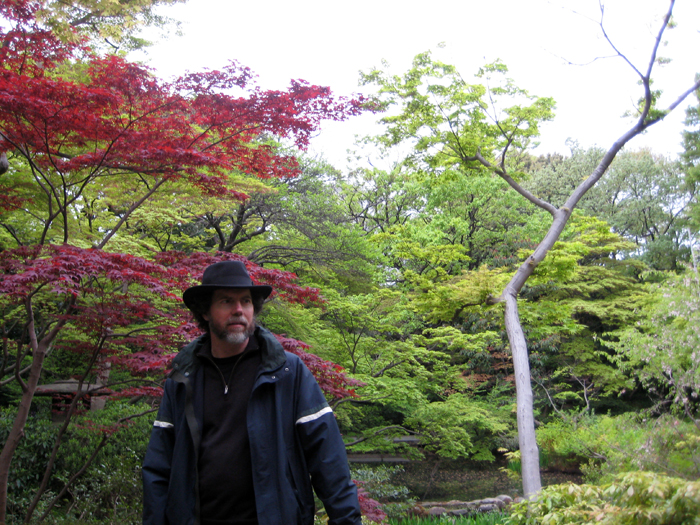 At a garden in Tokyo. Japanese gardens are some of my favorites in all the world.


---
Ourense, Spain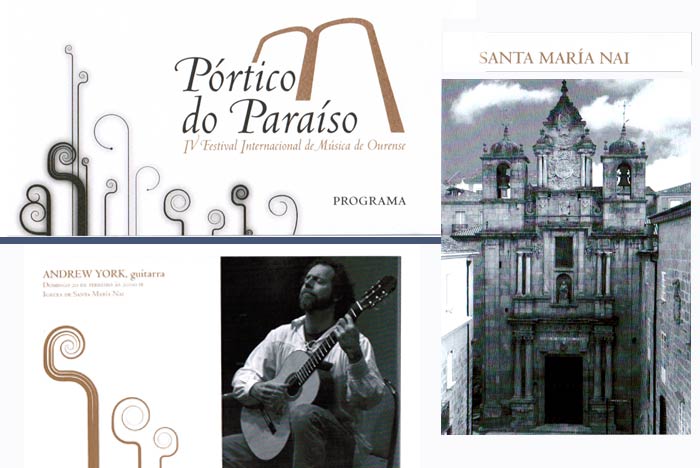 Portico do Paraiso is a classy and cool festival in Ourense, Spain - up near the top of Portugal, in Galicia. I played in the beautiful medieval church Santa María Nai.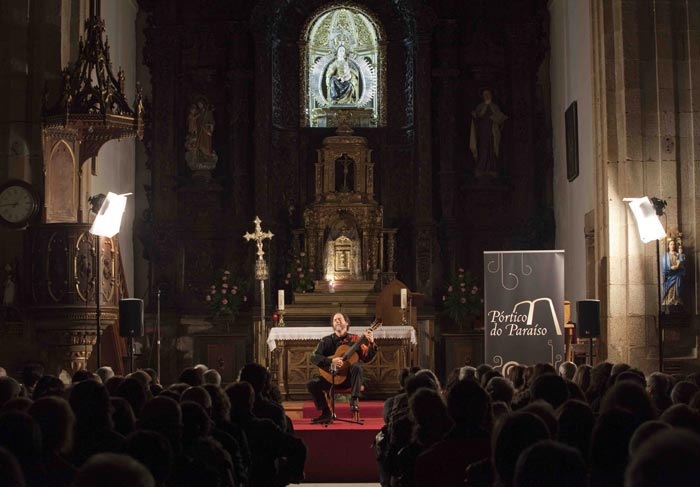 The church was a fine venue, and it was completely packed - people were even waiting outside in the courtyard in the rain for a chance to get in. photo by the excellent photographer Mani Moreton.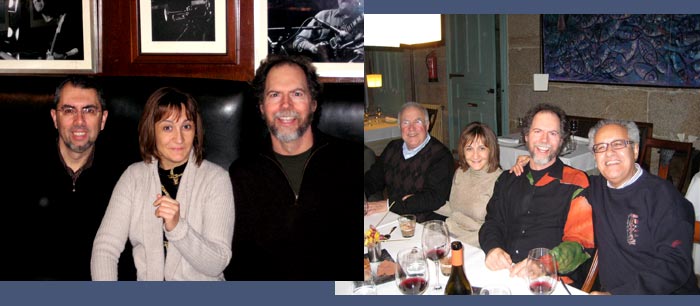 Conchi and Juan da Silva run the festival, and are very cool people and hip to hang out with. Here we are on the left having a coffee in a heavy jazz club in Ourense that has hosted many great jazzers over the years.
After my concert we went to a one-star Michelin restautant (right photo) - fantastic food and lovely local wine. Pulpo (octopus) is the specialty here, and it is flavorful, tender and incredibly delicious. Galicia is a celtic region in Spain, and after the meal everyone at the table started singing old Galician folk songs. Magic.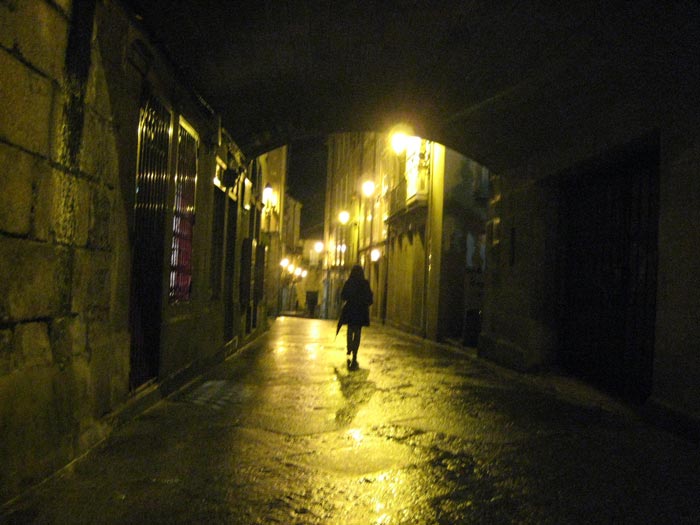 Ourense is a very charming city, especially with light splashing on the ancient stone streets in the rain.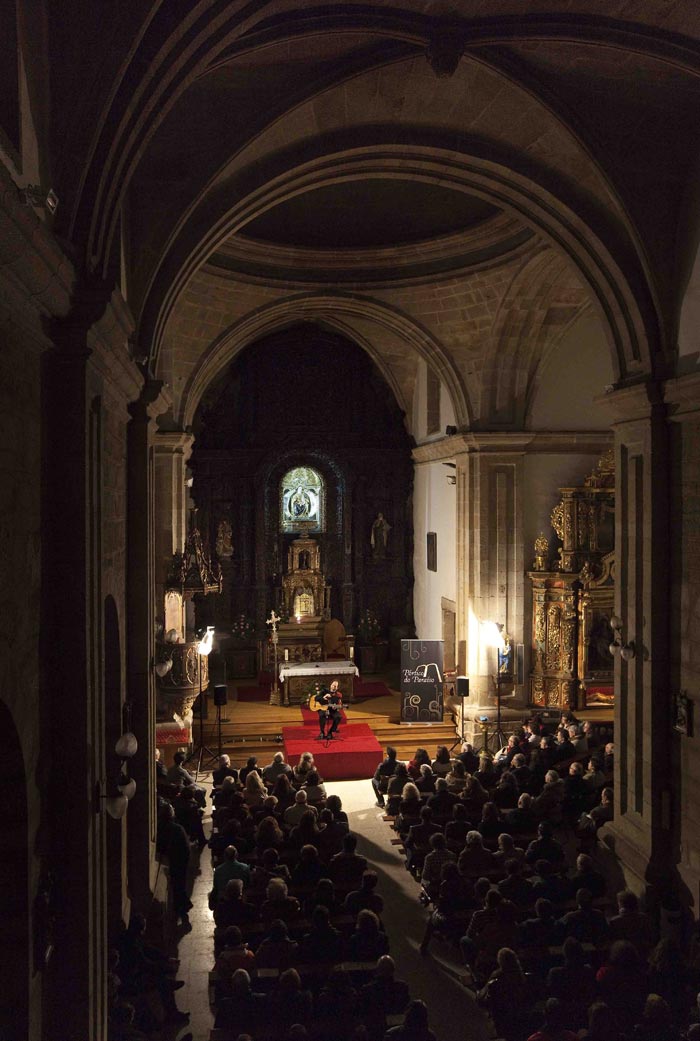 Another photo by Mani Moreton of the concert venue.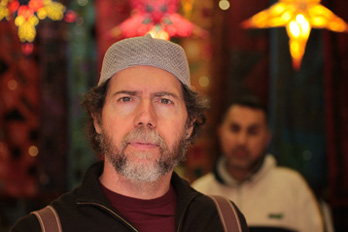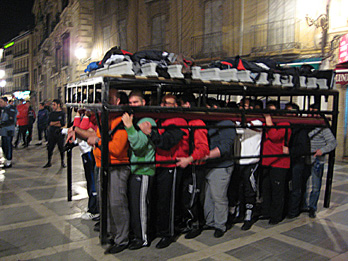 Now to southern Spain to visit one of my favorite cities, Granada. First I had to try on a cap in a Morrocan shop. It was holy week in Granada, and at night in Plaza Nueva men were lifting and slowly walking while carrying these cages with very heavy concrete beams on the top.


A view from the Alhambra, the great Moorish castle that was the last stronghold of the Moors until 1492.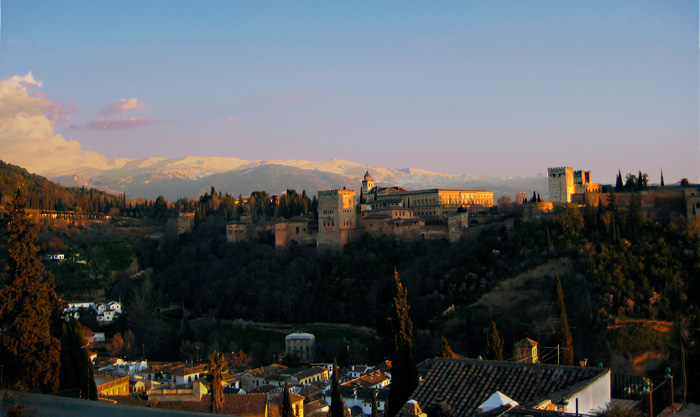 The Alhambra, as viewed from the Albaycin, the old Arabic section of Granada . . .
---
---